Jason Griffiths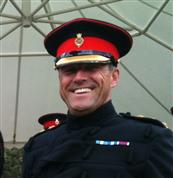 Major Jason Griffiths enlisted into the Army at The Junior Leaders Regiment, Royal Armoured Corps in Bovington, Dorset in September 1984. After two years training he was posted to the Band of The Queen's Own Hussars, who at the time were stationed in Hohne, North Germany. In January 1994, Major Griffiths was selected to attend the three-year Bandmaster Course at The Royal Military School of Music (RMSM), Kneller Hall in Twickenham. On completion of the course, he was appointed Bandmaster to The Band of The Parachute Regiment in April 1997, stationed in Aldershot Hampshire. He served there for almost four years before selection for a posting to The Household Cavalry. Following completion of the Household Cavalry Equitation Course, Captain Griffiths was appointed Bandmaster to The Band of The Blues & Royals (RHG/D) in March 2001 based in Windsor. In March 2003, Major Griffiths returned to RMSM and assumed the appointment of Training Design Warrant Officer where he assisted in the design of all courses for CAMUS
In January 2005, he was commissioned and appointed Director of Music of The King's Division Waterloo Band in Catterick, North Yorkshire.
As a result of the MOD study Future Army Structures, Major Griffiths remained in Catterick and was appointed Director of Music to one of the newly formed Royal Armoured Corps bands, The Heavy Cavalry and Cambrai Band in June 2006. Following three years in Catterick, Major Griffiths was appointed Deputy Chief Instructor, again at RMSM and at the end of that year moved to HQ CAMUS and was appointed the desk Officer responsible for Career Management and Recruiting for CAMUS.
Major Griffiths returned to The Band of The Blues and Royals (RHG/D) as the Director of Music in January 2011.