Trevor Ford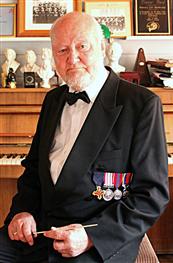 Trevor J. Ford was born in Tasmania in 1931 where his British parents had emigrated. They returned to Oxford in 1934 where he grew up and was educated at the Oxford High School for Boys. He began having piano lessons at the age of five and violin lessons at twelve. Amongst his piano teachers have been Luigi Villa and later Professor Alan Bixter, (a former pupil of Wilhelm Backhaus ).
Trevor joined the Royal Marine Band Service as a Bandboy in 1948 and saw service in Malaya, the Far East and Mediterranean. In 1960 he was appointed Bandmaster of the Royal Marines Band of The British Home Fleet and was, at that time, the youngest Bandmaster in the Royal Marines. In 1964 he left the Royal Marines and moved to Norway where he became Head of Music for the Norwegian Band Federation. His responsibilities included music education, band conducting, the instrumental teaching program and activities such as festivals and contests.
In 1973 Trevor Ford won the second prize in an international composer contest for band works. He has written many works for band and nearly 100 of these have been published in Europe and the United States, including commissions for Dutch radio, The Nordic Music Union, Uster Festival in Switzerland and Hamar International Festival in Norway.
Trevor Ford is the author of several music theory books and is in demand as a conductor and lecturer throughout the United States and Europe. He is a regular adjudicator for contests in Scandinavia, including the Norwegian and Danish national contests and he has also judged the Kerkrade World Festival, European Brass Band Championships, British Brass Band Championships, Swiss National Contest, New Zealand National Centennial Contest, International festivals in Norway and Sweden and radio contests in Holland and Norway.
In 1988 he was invited to the Leningrad International Festival where he conducted his own composition "In Harmony" with the Leningrad Military Band. He founded the Norwegian National Youth Band, co-founded the Norwegian Bandmasters Association, was formerly NBA's International Chairman and was the first President of W.A.S.B.E. In 1981 he was presented with the Academy of Wind and Percussive Arts award (The "Oscar" of the band world). Trevor Ford is a life honorary member of NBA, The Norwegian Band Federation, WASBE and also the Norwegian Conductors Society and an honorary member of Phi Beta Mu.
Several composers have dedicated works to him and in 1986 he was the subject of a book by Marion Roberts U.S.A. written as part of his doctorate. Trevor Ford has now retired from the Norwegian Band Federation and spends much of his time writing and traveling. In 2002 he was awarded a knighthood by King Harald of Norway for services to music.
Trevor Ford is the current President of the International Military Music Society.