Ray Thompson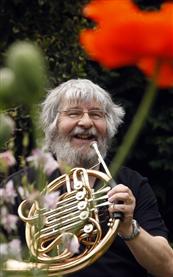 Ray Thompson has been involved, in an amateur capacity, with music for over 40 years and started learning classical Piano at the age of 7. Playing the French Horn from the age of 11 he performed in many of the amateur orchestras in the Newcastle upon Tyne Area, experiencing a lot of the classical repertoire.

He moved to the Alnwick area in 1976 and played Piano/Keyboard and Horn for many of the local amateur groups. He has also directed musical theatre pit bands as Musical Director, for amateur shows such as Grease, 42nd Street, Mack and Mabel and Chicago, in both Alnwick and Berwick on Tweed. He has even done panto!!

Currently he is the conductor of the Alnwick Playhouse Concert Band, a post he has held since the band's inception in 1994. He has also found time to compose and arrange music for the concert band; a particular favorites of the band being his "Tyneside Songs Suite" which incorporates The Lambton Worm, Bobby Shaftoe and the Blaydon Races. He is also a piano/keyboard and brass teacher.

He previously ran the 15 piece "Ray Thompson Big Band", sadly now defunct, which has now evolved into his other band; an 8 piece jazz band - "And All That Jazz", for which he has arranged a great deal of their repertoire.

Ray continues to play a varied mixture of piano music for his own enjoyment: classical (especially Chopin), jazz, blues and boogie. He is also a member of the Westfield Brass Quintet and founder of the Ray Thompson Wind Quintet.