Christian Day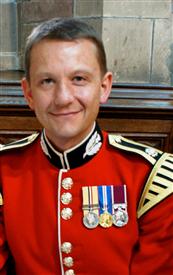 Christian was born in 1974 and grew-up in Shropshire where he studied trombone and piano from the age of 9. Much of his teenage life was spent performing with the many youth ensembles that Shropshire Music Services had to offer.

At the age of 18, Christian joined the College Band of the Royal Air Force in Lincolnshire where he worked for 8 years before moving on to the Clive Band of the Prince of Wales's Division in Shropshire. In 2006, joined to the Scots Guards Band in London where he is currently enjoying the position of Principal Trombonist.

During his career in military music, Christian has extensively travelled the world, performing in many famous concert venues - including the iconic Albert Hall in London. He has also participated in Great Britain's much-loved State and Ceremonial occasions, featured as a soloist and arranger on many recordings and performed in ensembles ranging from baroque brass choir to rock band and everything in between.