David Barringer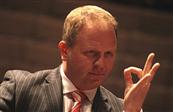 David Barringer was born in Rotherham, South Yorkshire in 1973. His musical upbringing was in Brass Bands, playing with some of the UK's top Bands. He was Junior Slow Melody Champion of Great Britain for two years in succession.
Captain Barringer joined the Army in September 1989 and after basic training he studied at the Army Junior School of Music, Pirbright. He subsequently attended the Royal Military School of Music, Kneller Hall before joining the Band of the Coldstream Guards as a Tuba player in January 1993.
He developed an interest in brass band conducting at an early age and after winning the London heat of the 1998 Young Conductor of the Year Competition, he went on to be runner up at the National final. He then represented Great Britain at the inaugural European Conductor of the Year competition in the year 2000.
Captain Barringer was selected for the prestigious Student Bandmaster course at the Royal Military School of Music, Kneller Hall in the summer of 2000 and, on completion of the course, was awarded a Bachelor of Music (Honours) degree. In July 2003, he was appointed Bandmaster to the Light Division Band, Winchester and in June 2005 he was posted, albeit in the same town, to the Adjutant General's Corps Band.
In January 2007 he was posted to the staff of Headquarters Directorate Corps of Army Music at Kneller Hall and was subsequently commissioned, in the rank of Captain, in April 2008. He has maintained an interest in Brass Bands throughout his career and used his expertise to form the British Army Brass Band in 2008. In January 2009, Captain Barringer had the honour to be appointed Director of Music, Band of the Royal Corps of Signals.