Roger Tomlinson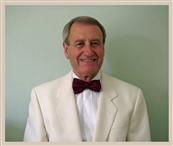 Roger Tomlinson was born on 25th August 1939. At the age of eight he attended a boarding school at Lockerbie in Scotland, where he began to develop his musical talents by singing in the school choir, and beginning violin lessons. However, it was at his next boarding school, the Duke of York's School at Dover, where there was a school military band, that Roger discovered his love of military music. When he left school at the age of eighteen Roger joined the Band of the Royal Corps of Signals as a trombone player and violinist.

When he reached the rank of sergeant, he undertook the three-year training course for army bandmasters at the Royal Military School of Music, Kneller Hall. He passed out successfully, winning the Worshipful Company of Musicians Medal for the best all round student of his class.
Subsequently Roger was promoted to Warrant Officer Class One, and over the next few years served as Bandmaster with the Argyll and Sutherland Highlanders, The Queen's Royal Lancers, and the Prince of Wales's Division.

After being promoted to the rank of Captain, he held three positions within the Royal Armoured Corps, before being promoted to Major and appointed to the Household Cavalry as Director of Music of the Blues and Royals. During this time Roger took part in six 'Trooping the Colour' ceremonies for the Queen's Birthday Parade, and was senior Director of Music for three Royal Tournaments, three Berlin Tattoos, and several other major massed band events.

Roger completed the last two years of his career at the Royal Military School of Music, Kneller Hall, with promotion to the rank of Lieutenant Colonel, and the appointment of Senior Director of Music, British Army.