Robert Cowan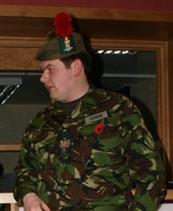 Robert Cowan was born on the 12th July 1984, in Stirling, Scotland and first took an interest in music at the age of 8, playing the Piano and Cornet at the age of 12. He also plays Euphonium, Trombone, Clarinet and Percussion.
Robert has played with Clackmannan District Brass Band, the Clackmannan Brass Ensemble, Hillfoots Music for Youth and the Rosyth Concert Band and currently instructs at the 1st Tulliallan Boys' Brigade Band, and is the Staff Arranger and Principal Conductor of the Central Band of the Boys' Brigade in Scotland.
Robert has also been involved in military music, forming a Band with the Army Cadet Force, the first in Scotland for over two decades. He had the privilege of passing the Army Cadet Force Bandmasters' Course as top student in April 2008, and was appointed Bandmaster of the Argyll and Sutherland Highlanders Battalion Army Cadet Force. He then moved from this position to form a Band with 383 (Alloa) Squadron, Air Training Corps. Although a successful band, its existence was short lived, and Robert moved to take up his current position as WO1 (Bandmaster) with the Regimental Band of the Black Watch Battalion Army Cadet Force. This position sees him leading the only Cadet Forces Military Band in Scotland.
Robert's daytime employment is as an Office Administrator with the Citizens Advice Bureau."