Neil Morgan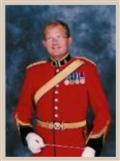 Major Neil Morgan joined the Army in July 1979 as a Junior Bandsman in the Royal Hampshire Regiment. Whilst with the Regimental Band he served in Dover, Berlin, Tidworth and Northern Ireland. Tours included Denmark, Kenya, Turkey, Germany and the Channel Islands.

In January 1991 he began the three year student Bandmaster Course at the Royal Military School of Music, Kneller Hall. After graduating, he was appointed Bandmaster of the Band of the Corps of Royal Electrical and Mechanical Engineers, stationed at Arborfield. Tours undertaken included Canada, USA, Hong Kong and Switzerland. In July 1998 he was appointed Staff Bandmaster at Headquarters Army Music where he was jointly responsible for the implementation of the Systems Approach to Training.

In October 1999 he was commissioned into the rank of Captain and appointed Director of Music, Band of the Brigade of Gurkhas on 4 November 1999. Since his appointment, he has been deployed on Operational Tours to Bosnia, Sierra Leone and Afghanistan.

In February 2005, he assumed the appointment of Director of Music of the Band of the Adjutant General's Corps.

Neil is currently the SO2 Manning & Records at the Directorate Corps of Army Music based at Kneller Hall.