Kelly Bennette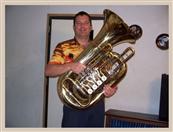 Kelly Bennette was born in 1962 in Port Arthur, Texas, which is along the Gulf Coast in South-Eastern Texas. He started performing in bands in 5th grade at G.M. Sims Elementary School and continued to play through the rest of public school in the Thomas Edison Junior High and Thomas Jefferson High School Bands.

He received a degree in music education at Lamar University in Beaumont Texas in 1989 and has been teaching music in Texas public schools since. Kelly played with the Lamar Faculty Brass Quintet for six years and also with the Beaumont Symphony Orchestra for nine years as well as the Lamar University Wind Ensemble.

He specializes in writing circus marches as well as military marches. His hobbies include amateur radio, boating (power and sail) and restoring antique motorcycles.