Ian Macpherson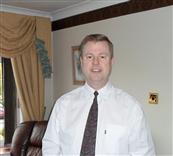 Born in 1962, Ian Macpherson was raised in Yorkshire. He began to study Percussion at the age of 13, undertaking professional drum tuition with Ronnie Bottomley.

Ian first began his career working at the age of 14 in a working man's club gaining valuable experience at such a young age. This opened the way to playing for local shows.

Ian joined the army as a professional musician, studying Percussion at the Scottish Divisional School of Music, Edinburgh. Having spent 2 years in Edinburgh he graduated and studied for a further year at The Royal Military School of Music, Kneller Hall, London, under Bernard Harman - a former professor of percussion at The Royal College of Music. On completion, Ian was posted to The Band of the 1st Battalion The Royal Scots (The Royal Regiment) where he served in Northern Ireland, Scotland and Germany.

In 1988, he was selected to attend the 3 year Bandmaster's Course, again at The Royal Military School of Music, Kneller Hall. On completion of the course he was awarded The Major Alf Young Memorial Prize for The Best Church Service and graduated as a British Army Bandmaster.

In 1991, he was appointed Bandmaster of The Peninsula Band of The Royal Green Jackets in Dover. After a successful tour of duty, Ian retired from the Army in 1994.

After 16 years of Army service Ian moved to the Sultanate of Oman working for The Royal Oman Symphony Orchestra as Teacher of Percussion. After two successful years, he was appointed The Musical Adviser to The Royal Oman Police holding the rank of Major.

On returning back to the United Kingdom Ian extended his teaching in Schools before opening his own music studio in Harrogate where he now manages and teaches full time. You can find Ian's site at PercussiveEdge.