Graeme Abernethy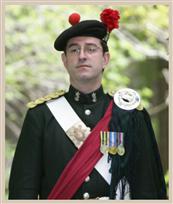 Graeme began studying the piano at an early age, taking up the French horn at secondary school and was privileged to be awarded a scholarship to study with renowned horn virtuoso the late Ifor James.

He enlisted as a horn player in the Regimental Band of the Gordon Highlanders in 1983, attending the Pupils' Course at the Royal Military School of Music, Kneller Hall the following year, winning the Cousins Silver Medal for the highest marks in the instrumental competition and the Cassels Silver Medal for the highest marks in the written examinations. On leaving the Regular Army in 1989 to study for a degree in Chinese, he joined the then Band of the 51st Highland Volunteers of the Territorial Army (now the Highland Band of the Royal Regiment of Scotland) being appointed Bandmaster in 1991 and Director of Music in 2001.

Following a postgraduate course in Business Management, he spent a number of years working in export, marketing and IT in the UK and Eastern Europe, whilst at the same time continuing his part-time musical career in the Territorial Army.

His current civilian activities have brought him back to his musical roots as he recently qualified as a secondary school music teacher.