George Pollen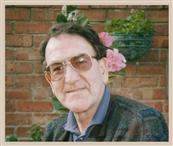 George started playing violin at school and within the first year had won the school's music prize. Enlisting into the British Army in 1958, he joined The Royal Engineers Staff Band in Aldershot and served for a full 22 years. Whilst in the band, he discovered a talent for arranging music, arranging and composing many pieces for concert military band, many of which were broadcast on BBC Radio, BBC TV and placed onto records, cassettes and Cd's.

For a while, he spent time as copyist to Ronald Binge - composer of 'Elizabethan Serenade', 'The Water Mill' and many other fine pieces. Ronald Binge was also famous for creating "The Mantovani Sound" (cascading strings).

Apart from his talents as an arranger and composer George is a prolific sequencer. You can view his large collection of midi files George at The George Pollen Midi Collection.