Ed Keeley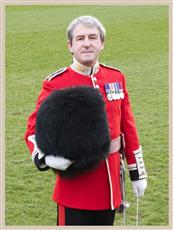 Major Ed Keeley joined the Queen's Regiment at Bassingbourne as a Junior Musician in 1974. After training, he joined the Band of the 3rd Battalion The Queen's Regiment, with which he toured extensively throughout Europe.

In 1987, whilst the principal trombonist of the band, he was selected to attend the Student Bandmasters Course at the Royal Military School of Music, Kneller Hall. Major Keeley graduated from Kneller Hall in 1989, winning the Commandant's prize for the best military band quick march, and was appointed Bandmaster of the Light Infantry Corunna Band in March 1990. After serving with the band in Berlin and Paderborn, he became Bandmaster and Training Officer of the Light Division Band in the summer of 1994.

In May 1997, Ed was commissioned to the rank of Captain and appointed as Director of Music to the Band of the Brigade of Gurkhas. During this exciting period, the Gurkha Band carried out many interesting engagements worldwide, including accompanying HM The Queen and HRH Prince Philip on their State Visit to Brunei in 1998.

In 1999, he was appointed Director of Music of the Band of the Corps of Royal Engineers. With the Engineers, he toured South Korea, Cyprus, Dubai, Abu Dhabi and many parts of Europe. In 2003 he commanded the band on their deployment to Iraq at the beginning of Operation Telic, serving with 16 Air Assault Brigade.

In August 2006, Major Ed Keeley left the regular Army, following his selection for the appointment of Director of Music of the Honourable Artillery Company.

In his spare time, he also works for Kent Music Services, The London College of Music and a charity bringing music therapy to Alzheimer suffers.