Colin Norman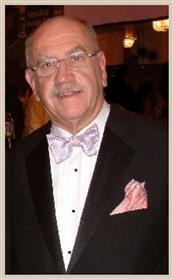 Colin Norman began his musical career at an early age and his composition and conducting development started quite by accident whilst still at school. Already an accomplished pianist, his first venture into composing came when he was asked to write a score for the school orchestra.

Having a speech impediment from birth, he was encouraged to conduct the large orchestra for his own composition and later, due to illness of the music principal and at the request of the head teacher and governors, took on the responsibilities as permanent conductor to both the orchestra and choir whilst still a student.

He studied piano and timpani at the Trinity College of Music in London. Soon after leaving school he formed his own very successful youth orchestra in Essex and was in constant demand as conductor and musical director for many amateur operatic societies and orchestras.

His professional career began when he worked in the music publishing industry for over ten years, progressing through the various departments he became a copyist. Very quickly he became an established "house" arranger for a top music publisher, during which time he collaborated at their personal request with the late Charlie Chaplin and Lionel Bart. His arrangements included scores for radio broadcasts, leading television productions, recording and theatre shows. The numerous artists he arranged for included Petula Clark, Tommy Steele and Shirley Bassey as well as the big bands, Mantovani, Frank Chacksfield and singer-comedian Ken Dodd.

After a successful spell of teaching inj Maldon [Essex] he went on to become musical director and composer for the Queens Theatre in Hornchurch where he directed many of the smaller scale musical production – Irma La Douce, The Fantastics, Lock up your Daughters etc. and was composer for many of the major drama productions, most notably Henry Fieldings "Tom Jones" which starred the young Martin Shaw (TV's "Judge John Deed") in his first major role.

As a result of his success in this capacity he was approached and directed musical productions in other provincial theatres – Lincoln and Salisbury.

He became an established and much sought after musical director/conductor/arranger for many stage musicals and production variety shows the length and breadth of the UK, conducting artists as diverse as The New Seekers, Peter Noone and the operatic singer Moira Anderson as well as the late Ted Rogers and Freddie Starr namely for the Delfont Organisation, where he was proud to have established a close working relationship with the most important theatrical directors' of their day – Maurice Fournier, Albert Knight and Dickie Hurran.

It was during this time he was invited to become the personal musical director / conductor for the great international comedy star Sir Norman Wisdom and his first engagement during the long association was a tour of South Africa. His conducting abilities were soon noticed by the directors of the Durban Symphony Orchestra and he was invited to extend his visit to be the guest conductor for two symphonic concerts. He scored an immediate success with the concerts, which resulted in an offer for a yearly contract, but due to other commitments he was unable to accept.

He has enjoyed enormous personal success, travelling the World as personal conductor / musical director to many other leading celebrities when he continued to perform in most of the major venues in the UK touring with some of the greats, Sasha Distel, Perry Como and Bing Crosby.

Further highlights include two visits with concerts in Iran and three tours, concerts and TV shows in Australia and Hong Kong.

As a prolific composer, his renowned passion for melody, with percussive and Orchestral complexities, ignites all his arrangements and compositions.